Everton have been painfully poor so far in 2023/24, without a goal in three defeats before a 2-2 draw at Sheffield United.
Therefore it'll be a huge relief for supporters to see Beto (£6.0m) sign from Udinese and immediately score in their midweek EFL Cup win, albeit against League Two's bottom side Doncaster Rovers.
He cost the Toffees £26m – a hefty amount that will feel like pennies should he keep them away from relegation. The constant injuries of unreliable Dominic Calvert-Lewin (£5.8m) made this transfer essential.
So can the 25-year-old provide a constant stream of goals and what Fantasy Premier League (FPL) impact will he have?
We'll attempt to answer that question below.
---
THE HISTORY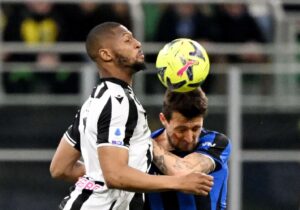 Born in Portugal but with Bissau-Guinean descent, a young Beto – full name Norberto Bercique Gomes Betuncal – was released by Benfica and thus began an upward battle through the lower leagues to eventually achieve his dreams.
Five years ago, he was still working in a local KFC alongside fifth-tier football.
Yet his mental strength and determination ensured he never gave up. Soon he was at third-division side Olimpico Montijo in 2018 and netted 21 times, earning a move to top-flight outfit Portimonense.
"I had a positive mentality. I thought, 'I'm tall, I'm strong, I'm fast – and you can't train these things.' If you're slow, you'll always be slow. So I have these skills – the techniques and the intelligence of the game, these things I can learn and improve.
"From there, with this self-confidence, I started to develop. I even told my team-mates, 'I will become a footballer', and I am proud of this fact. In my opinion, if you don't believe in yourself, nobody else will." – Beto
After a couple of years, he was off to Serie A side Udinese. Known for nurturing unearthed gems from abroad, recent names off the conveyor belt include Rodrigo De Paul, Bruno Fernandes (£8.5m) and Seko Fofana.
His time at Le Zebrette was a mix of goalless streaks and promising form, netting a hat-trick against Cagliari in April 2022.
Everton made a big attempt to capture Beto in January, couldn't agree on a fee and had to show lots of patience in finally getting their target over the line. In fact, his claim of being a supporter seems legitimate. There's a video of him from years ago wearing an Everton shirt, as he idolised former Toffee Samuel Eto'o.
"It was a present from my high school friends because they knew I was an Everton fan. A big Lukaku fan in those times, Everton had a really good team and I used to watch all the games; Lukaku, Mirallas, Barkley, Baines, Coleman." – Beto
At international level, Beto has no caps but was named in Portugal's needlessly large preliminary World Cup squad with 54 others.
Just like he says, Beto is both tall and fast, giving Everton a 6ft 4in focal point to get on the end of their second-highest number of crosses (95) but also a prolific dribbler. His six successful take-ons were the most of all Gameweek 4 participants.
Three shots inside the box were recorded at Sheffield United and he looked bright in his cameo at Doncaster. The goal saw Beto outpace a defender to reach Amadou Onana's (£4.9m) through ball, poking first-time past the goalkeeper with a nice finish.
He later hit the post with a header and had another strike ruled out. Initial impressions are that he's an all-rounder whose strengths are a good fit for the Premier League.
Beto is one of just 11 players to have scored 20+ non-penalty goals in Serie A since the start of 2021-22.
Of those 11 players, only Tammy Abraham (0.19) has averaged a higher non-penalty xG per shot than he has (0.18). pic.twitter.com/DKQQxiliSS
Nevertheless, the forward is not without weakness. He tends to mis-control the ball a little too often but perhaps a more direct playing style can masquerade this.
With Calvert-Lewin rarely fit and Neal Maupay (£4.9m) loaned out to Brentford, Beto walks straight into the starting XI for a side who – despite scoring a league-low of two goals – actually ranks joint-second for big chances (14). His task is to improve their 3.4% conversion rate.
"As a powerful striker who can carry the ball, hold up play, is strong in the air and works hard for the team, he has a lot of attributes that we hope can see him prove to be a success with Everton." – Sean Dyche
Dwight McNeil (£5.4m) will be ready to start after the international break, loanee Jack Harrison (£5.5m) should be fit and Arnaut Danjuma (£5.5m) is now fully integrated into the side. Their attacking prospects will improve but the big question is whether Sean Dyche intends to start both Beto and an available Calvert-Lewin.
His Burnley side used a 4-4-2 system, which he spoke about at length here.
By the time back-to-back home games versus Luton Town and Bournemouth begin in Gameweek 7, we should know a bit more about whether Beto is a certain starter for Everton.
If so, he provides another interesting option in the £5.5m to £6.5m range.
The great early form of Yoane Wissa (£6.2m) has faded into two blanks, while rotation is forcing managers to ditch Joao Pedro (£5.5m). Team-mate Evan Ferguson (£5.9m) bagged a Gameweek 4 hat-trick.
Meanwhile, only Erling Haaland (£14.1m) beats Odsonne Edouard (£5.5m) for both attempts (19) and shots inside the box (18), whereas both Michail Antonio (£6.1m) and Dominic Solanke (£6.5m) have scored twice from four starts. Luton's Carlton Morris (£5.5m) is nailed on, takes penalties and should drip-feed some occasional returns.
Owning a forward in this price region could prove to be fruitful and Beto certainly merits consideration.
FPLMarc Newcastle fan that spends far too much time thinking about FPL.
im on wc and need som advice please!
Leno / Areola
Chilwell, Walker, Udogie, Digne, Estupinan
Son, Maddison, Saka, Diaz, Sterling
Haaland, Alvarez, Ferguson
0.0 itb
Thinking Leno will become Flekken, but trying to earn some money
DigneÈstupinan could become 4.0
Ferguson could become Archer
But is this midfield ok? Son is short term, but upside and low ownership makes me want him for a gw or some few
Do i need Mbeumo??
I personally would go.for three proper striker. Archer and Ferguson are both not nailed.
If you move Diaz to Mbeumo you should get Darwin instead in case you decide to go for a cheaper defender as well.
That will also help.you to bring on Watkins, Hoilund, etc. if they start scoring which I hope will start soon.
Yeah and i have that in mind, just hitting som pricerices and hoping to make some money over the next 13 days.
Front 3 will be Jacksen, Alvarez and Haaland probably (will monitor Darwin, but if he gets the minutes he absolutley is an option!)
Midfield currently Saka, son, mbeumo, maddy and sterling
Defence ok with Estupinan, Udogie, Walker, Chilwell and Baldock?
Looks good for me
If Archer and Ferguson aren't good because they're not "nailed" then suggesting Darwin for even more money doesn't make much sense, as he's been shown to be far from nailed. All 3 picks are decent picks though if players are willing to take the risk they don't (I'd love to see all 3 become nailed options).
I think Archer should be pretty nailed on though but he's only been there for one game so will have to see. It's worth the risk at 4.5 tho, especially if he's first on the bench most weeks.
For me it is more about two placeholders that cover the price range between 7.0 and 8.0 rather than < 6.0.
Darwin, Alvarez and Hoilund are all not 100% nailed, but you should be able to bring in two if they start delivering. Same for Watkins and the Newcastle strikers.
But if you think that Archer & Fergie are ready to play and deliver, then go for it. However, I personally wouldn't waste a striker option on the bench if that's the idea of a cheap option.
https://www.bbc.co.uk/sport/football/66713281
This club is just a PR disasterclass. Maybe Richard Arnold can "carry out" another 6 month investigation and then determine that Antony did nothing wrong after speaking to the player.
Antony "100m" Toilet flushes…
Fingers crossed the police actually do their job properly this time so it doesn't have to come to that.
Morning all. Just toying with routes to son. Could go Eze & foden to Son & harry Wilson with two FT. Obviously not doing anything until end of International break but would be tempted to captain Son next match if I went for something like that.
WC this or not?
Onana
Estu, Chilwell, Saliba
Saka, Rashford, Sterling, Mitoma, Ode
Haaland, Watkins
Areola, Archer, Udogie, Botman
Help!
I don't think so no. Who do you want? A lot your team would be in most people's wildcards! You could just swap Rashford or Saka for Son/Maddison, but even that could backfire. Seeing as you already have Ode I'd probably go with Saka to Son if you can afford it
Thanks. I cannot do Saka to Son as don't have anything in the bank.
I was thinking of Saka to Maddison if I don't do a WC?
…but why are you selling Saka? He's my VC in two of his next three fixtures
If anyone's going for Maddison, it's Ode for me here. Yet even that's a strong maybe, and probably wrong timing too
I'd play Udogie over Estupinan and roll FT here, fwiw
When DCL is finally fit, he and Beto would make a strong strike partnership in Dyche's traditional 4-4-2.
Need Ashley Barnes to give some coaching on use of the elbows.
The report makes him sound Jackson-lite to me – he'll get tons of chances but lacks the finesse to put them away. Nevertheless, he has 2 games to prove me wrong before Luton.
Beto looks like he knows the way to goal tbf.
You need to be logged in to post a comment.
Images supplied by Action Images. Images reproduced under licence from Football DataCo Limited. End User Licence 119042. Fixtures reproduced under licence from Football DataCo Limited. All rights reserved. Licence number NEWMEDIA/FantFS/148226a.
© Copyright Fantasy Football Scout 2023. All rights reserved.